With more than two-thirds of all website clicks coming from Google, it's safe to say that it is the largest search engine to date.
For your site to show up in the SERP and get those much-needed clicks, it needs to be indexed first.
But what exactly is Google Indexing, and how can you use it?
Let's take an in-depth look at this phenomenon and find out how you can best navigate it.
What is Google Index?
Google Indexing is a simple process of placing your website's pages into Google's search engine. Google uses an advanced algorithm to provide users with the most relevant answer to their queries by looking through a website's index.
This process is brilliant, to say the least, as there are millions of web pages out there, and not all of them are indexed.
Here's where an Index Checker tool comes in real handy – it can give you information about the status of your website's pages.
Let's delve into the basics first and then see how you can take advantage of this type of software.
Why is Google Indexing Important?
You need to make sure that the website's pages you try to rank for are first indexed so they can show up on Google's search engine results pages.
Those who do not know how to utilize this aspect end up blogging for months on end without their articles ever showing up to SERPs.
To avoid this from happening to your site, make sure to index your pages. And here's how you can do that.
How Does Google Indexing Work?
Google uses "bots" to crawl websites' pages to add to its own index. These bots visit and crawl websites and jump from one page to another, taking notes on what they find in the process, and then adding these pages to Google's index so they can be discovered. Discoverability enables the Google bot to then place the page in the corresponding ranking place based on other various criteria.
How to Get Indexing Status?
Now that you understand what Google Indexing is, why it is important, and the mechanics behind it, it's time to learn how to get your website's pages indexed.
First, you'll need an index-checking tool like IndexCheckr's no index checking tool, which allows you to send URLs of your pages in bulk to check them for their indexing status.
Using this tool, you can easily and swiftly monitor which pages are indexed and add re-checking intervals to ensure they never get de-indexed in the future.
However, the best thing about using this tool is that you can even check your competitor's links or links to articles where you conduct link exchange activities. Getting a backlink from a non-indexed page is futile, after all, so it's better to be aware of this if you wish to improve your website's backlink structure.
How to Index & Rank Your Pages?
Ranking on Google's first page results is not an easy task, but it can bring in much-needed traffic to your business' website.
Since Google uses a really complex algorithm to identify which pages to index and then place them in the SERP, you'll need to optimize your SEO strategy accordingly.
Even if you have the most impeccable content optimized with the most relevant keywords, if your page isn't indexed, it will not rank.
The good news is you can take simple steps to ensure your pages end up getting indexed, and here's how:
1. Check Your Pages' Index Status
The first step you need to take is to ensure your pages are indexed. To do that, open up IndexCheckr's dashboard, add your new project, and then add the URLs you wish to check (you can even submit your full sitemap for bulk check).
This way you'll check the status and if they aren't indexed, you'll get a notification of their status marked with yellow.
Furthermore, you'll also need to check your robots.txt file to see if there aren't any disallow directives that may block the Google bot's access to your website's pages.
2. Submit Your Website's Sitemap to Google Search Console (GSC)
Sitemaps are a great way to structure your website's content and help Google easily crawl your pages and index your content.
A sitemap is basically an XML file that contains a list of every page you have on your website. If your website is WordPress based and installed, you can simply add a plugin like Yoast SEO that offers this feature, among many others.
Then all you have to do is navigate the dashboard on the left panel of GSC and, under the Sitemaps category, copy and paste your website's sitemap URL so that search engines can know where to locate your content in a structured manner.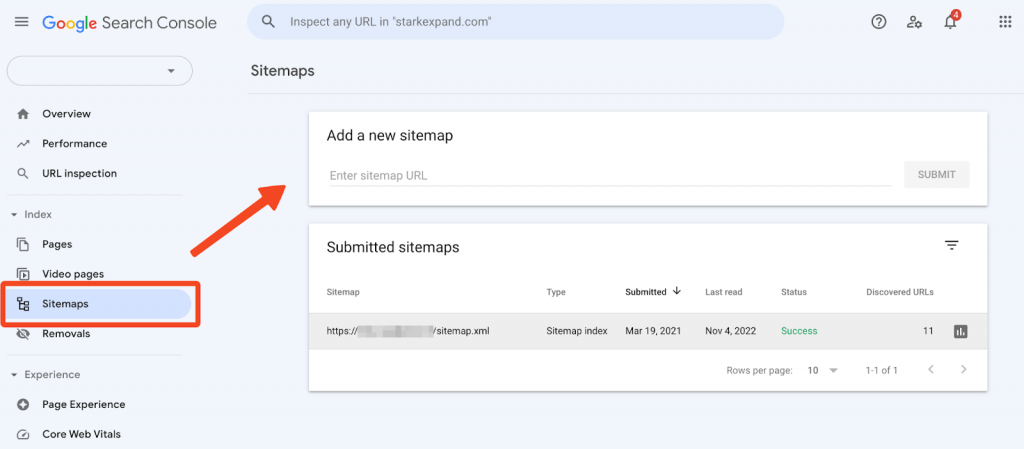 3. Quality Over Quantity
Creating quality content has been an ever-present feature in SEO. And if you're wondering what indexing has got to do with creating quality content – the answer is everything!
Google is looking to deliver high-quality content to satisfy users' search queries. For your website's pages to first get indexed, Google needs to see that your content is worthy of being placed in the ranking order.
What this means for you is that if you wish to rank well, your content needs to be of top quality, informative, and to satisfy the user's intent i.e. what they're searching for.
4. Optimize Content with Keywords
This is a vital aspect of SEO and one that every website owner needs to pay attention to in order to improve their chances of ranking higher.
When users make a search query, Google crawls through the internet, looking for the most pages that consist of the most suitable answers to provide the reader.
If you want your pages to show up high in the SERP, you'll need to optimize your content with various keywords.
However, there's a downside if you're not careful with keyword optimization as it can hurt your rankings. Namely, keyword stuffing is frowned upon by Google, so avoid piling up too many keywords in your content overall, especially in single sections or paragraphs.
5. Acquire Quality Backlinks
Backlinks are incoming links that come from various other websites and can significantly boost the value of your website.
The more backlinks your website generates, the better your overall value and rankings will be. That said, Google is looking at various factors to determine adequate rankings, and backlinks play a major role.
However, do note that the quality of your backlinks is also pivotal as opposed to just the quantity. This means that when you work on improving your backlink structure, don't just go for the numbers, make sure the backlinks you receive are of high quality as well.
Summary
Now that you've learned what Google Indexing is, its importance, and how to utilize it, we can safely conclude that it is vital if you're looking to get found on the internet.
Make sure your website and its pages are easy to crawl and navigate by using high-quality content and sitemaps, so you can help Google quickly figure out what you're all about and index your pages accordingly.