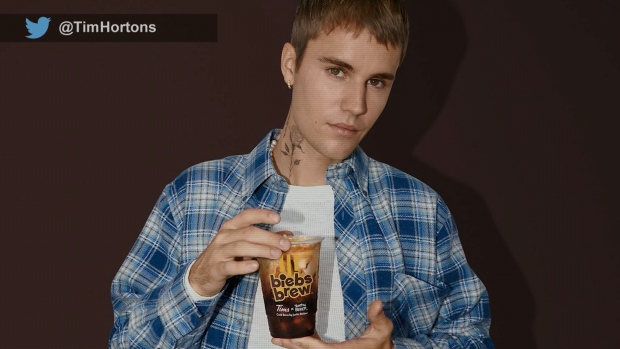 If you're Canadian just like Justin Bieber you for sure love a good coffee and Timbit from Tim Hortons. With much success on the first collaboration with the Canadian legends, Tim Hortons and Justin Bieber are bringing back the 3 Tim Biebs Timbits and adding a french vanilla cold blew to the collaboration.
Biebs brew will be launching in Canada and the US for a limited time on June 6th. Just like the first collaborations, Tims will also be launching a new merch piece, a limited edition Biebs Brews tumbler.
For many, the Tim Biebs is the most exciting part, as they are a take on the music artists' favourite Timbits. Tim Biebs includes 3 flavours, chocolate white fudge, sour creme chocolate chip and birthday waffle.
"We couldn't stop at Timbiebs, we needed a Biebs Brew too. And we are bringing both to Tims next month," said Justin. "Doing a Tim Hortons collab had always been a dream of mine. I grew up on Tim Hortons and it's always been something close to my heart."
On June 6th you can try the french vanilla cold brew that is steeped for 16 hours. During the collaboration, Justin revealed how much he loves his coffee on ice, and just in time for summer, Justin and Tims will be releasing the French Vanilla cold brew.
The launch of the cold brew and the relaunch of the Tim Biebs only call for her merch. On June 6th, for a limited time, you can buy a stainless steel Biebs Brews tumbler, which is only available in Canada, and the select store will be re-releasing the original merch line of fanny packs, and beanies to celebrate the launch as well.
Tim Biebs was a huge success – truly beyond all of our expectations – and what made it so great was the authenticity of the partnership," said Hope Bagozzi, Chief Marketing Officer for Tim Hortons.
Justin is a world famous singer, and it truly shows his love and devotion to Canada and Tim Hortons, that he would want to celebrate his favourite coffee and Timbits with the world. Don't miss out on Tim Biebs and Biebs Brews for a limited time starting June 6th.