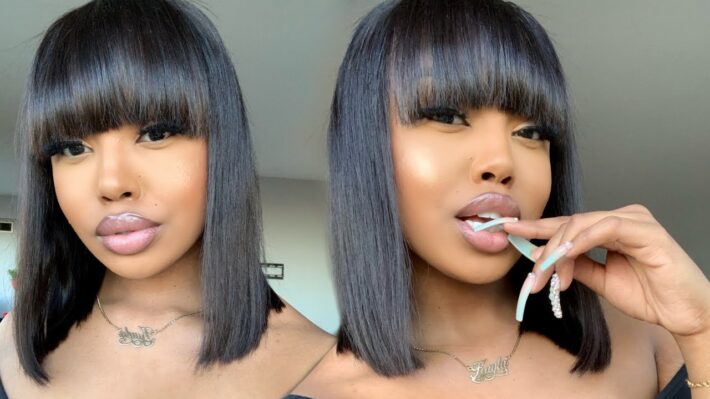 style a bob wig
It seems like these days owning a wig is becoming more and more popular and it may even become a worldwide trend. Personally, I don't think there is anything wrong with wearing a synthetic or human hair week. It is just another way of making yourself seem a bit more interesting and unique when compared to everyone else. Whether you hate your natural hair or you have lasted, it doesn't matter. With a nicely stylized bob–wig, you can create a look that all of your friends and every stranger will be jealous of.
However, manipulating a wig is not as easy or as simple as stylizing your own hair. Your natural "fur" has a lot more flexibility and much fewer chances to be torn. You can tie it in any kind of knot you want, you can write it, you can try it, you can spray it, you can do anything you want. While achieving their right style for a bob-wig requires a bit more focus and attention.
But, don't worry. It is not that complicated as I made it seem. With this article, I'm going to tell you about all the different ways you can wear a wig and the ways you can play with it to find the right style.
Make sure you buy the right one
While this tip I have for you is not exactly that will directly help you make your week look good, but it is something that will have an influence on your final style.
The first thing you have to understand is that there is a huge variety of wigs on the market. Some will be very cheap and others will be very expensive. But, there is also the option for something in the middle. I can't exactly tell you which one you should buy since that should depend on your budget. But, I do have to mention that the more expensive ones usually use real human hair while the cheaper ones have synthetic hair.
The difference between these two is that the former will seem much more realistic and you will have an easier time cleaning it and preparing it throughout the day while the latter will not be as realistic and is harder to clean. Although, synthetic hair will probably maintain its style throughout the entire day, no matter what you do.
Start with cleaning
Once you have finally found the perfect wig for the right style, your first step should be to clean it. But, for proper cleaning, you will need a couple of tools. The first thing you will need is a paddle brush. The reason why I pick a paddle brush because they are probably the best for detangling without ripping out them from their roots. And when it comes to hair on your wig, you should be extra careful. Although, if you have some other type of favorite brush, don't be scared to use it.
After a couple of brushes, you should use a sulfate-free shampoo to ensure that nothing will be damaged during the washing process. Makes the shampoo with mild or warm water until the mixture becomes phony. Using your hands, slowly wet the hair strands until you have thoroughly make sure that everything has been cleaned.
After you're done, take a soft dry towel and slowly pad the rig to gather all of that moisture. After that, you can leave it to dry or you could use a blow dryer if you are in a hurry. Although, it is much better to let human hair wigs dry on their own as suggested by Klaiyi Hair.
Part the wig
Natural hair grows in a way that creates a part that exposes the head or more accurately, the scalp. You can leave the parting as is or you could do some brushing to relocate it a bit to the left or to write. You can play around with it to make your hairdo a bit more interesting. Fortunately, you can do the same thing with a bob-wig. Parting a wig is quite easy and it's especially easy while it is still wet. And there is no need to worry because it doesn't matter whether it is synthetic or not. You can do this on any kind of wig.
Depending on the type of style you want to achieve, you should decide where the parting will be first. To perfect your look, I would recommend that you try everything. First on the left side, in the middle and on the right. Pick the one that you like the most or use all three of them on a different day. It will seem like you have a new look every new day.
Styling
Now comes the most important step of this entire process. This is the step where you can maximize the use of your creativity. You get to design your look in any way you want. You can add a bit of color on your locks, you can straighten out, you can make it wavy, curly or whatever you want. Just make sure that the combination of things will ultimately lead to a good style. You don't want just to design it with random ideas. First, make some kind of a plan and then follow through that plan for the best results.
Accessories
If you really want to give your brand new style a bit more shine and uniqueness, there are some accessories you can add to the bob-wig. Even just a small hair clip can make things seem a lot more authentic. But, when choosing a hair clip, make sure it is flashy enough to pull some attention to it. Experiment with all kinds of accessories or jewelry and I'm sure that you will find something that fits your taste for fashion.
By following through all of these ways of making a unique style for your bob-wig, I am sure that you will look great wherever you are going.